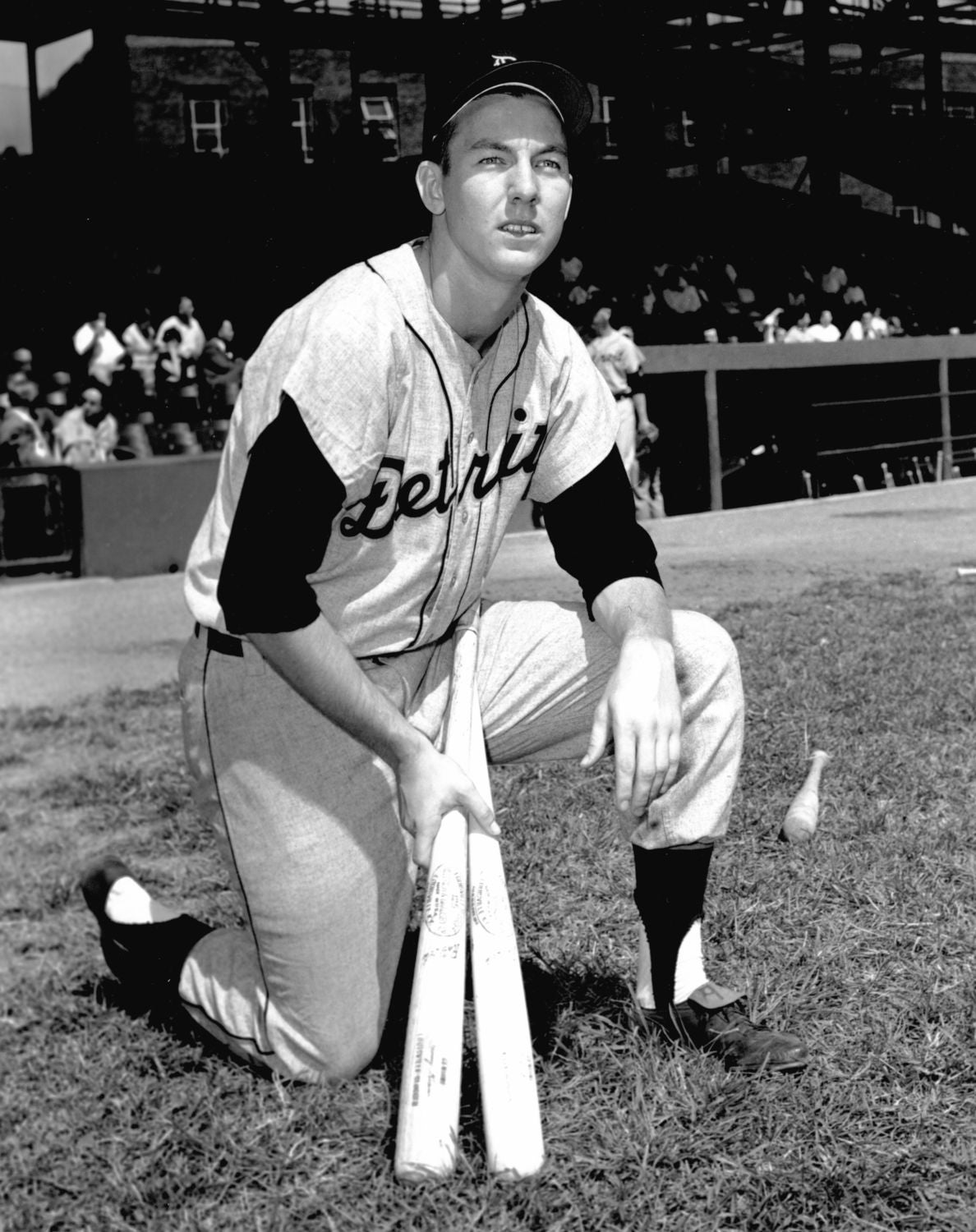 20-year-old Tigers outfielder Al Kaline batted .340 in 1955 to become the youngest player ever to win a batting title.
(Photo credit: BaseballHall.org)
This week, I present the Detroit Tigers All Star team for the 1950-1959 decade. All Star teams for previous decades are found below:
In each decade, I select nine position players, one for each position on the field plus one other hitter. This ninth player could be a designated hitter, a multiple position player who didn't fit neatly into one position and/or the best hitter who didn't get selected as a position player. I refer to this final hitter as the utility player. Then I select five pitchers: four starters and one reliever. In earlier decades when relievers were not frequently used, it will just be the fifth best starting pitcher.
Some further general rules are as follows:
A player must have played at least half of his games with the Tigers at a given position or played that position more than any other position. In rare cases, I might cheat a little bit if none of the players qualifying at a given position are any good at all and there is a superior player who played a good number of games at that position.
A player must have played at least two full seasons with the Tigers, preferably at the assigned position.
Only games played with the Tigers are considered.
If a player played other positions with the Tigers besides his assigned position, his hitting performance in those games does count.
Many statistics and sometimes, especially for fielding evaluation, anecdotal information will be considered. For hitters, some of the statistics I consider are:
Games Played (G)

Plate Appearances (PA)

Wins Above Replacement (Baseball-Reference WAR),
Adjusted Batting Runs (ABR)
Adjusted On Base Plus Slugging (OPS+)
The follow are among those I use for evaluating pitchers:
The 1950s decade was not one of the most eventful periods in Tigers history. In 1950, the Tigers finished in second place in The American League with a 95-59 record, three games behind the New York Yankees. From 1951-1959, they finished no higher than fourth place. From 1951-1954, The Tigers endured four consecutive losing seasons including a record of 50-104, the first 100-loss season in franchise history.
The Tigers then played around .500 ball or a little above from 1955-1959, but were still never in serious contention for a title. The Tigers teams of the fifties did not feature as many stars as previous eras, but Al Kaline did start his Hall of Fame career in 1953.
The top Tigers of 1950-1949 by Wins Above Replacement were:
Al Kaline 34
Harvey Kuenn 21
Frank Lary 20
Charlie Maxwell 17
Ray Boone 17
The decade All Star team is listed in Tables 1 and 2 below and player profiles follow.
Table 1: Tigers All Star Position Players: 1950-1959
| | | | | | | | | |
| --- | --- | --- | --- | --- | --- | --- | --- | --- |
| Pos | Player | From | To | G | PA | WAR | ABR | OPS+ |
| C | Red Wilson | 1954 | 1959 | 440 | 1,560 | 6 | -8 | 95 |
| 1B | Earl Torgeson | 1955 | 1957 | 236 | 831 | 4 | 21 | 119 |
| 2B | Frank Bolling | 1954 | 1959 | 646 | 2,680 | 11 | -12 | 95 |
| SS | Harvey Kuenn | 1952 | 1959 | 1,049 | 4,750 | 21 | 72 | 112 |
| 3B | Ray Boone | 1953 | 1958 | 683 | 2,856 | 17 | 107 | 130 |
| LF | Charlie Maxwell | 1955 | 1959 | 610 | 2,371 | 17 | 80 | 129 |
| CF | Johnny Groth | 1950 | 1959 | 597 | 2,100 | 5 | 11 | 102 |
| RF | Al Kaline | 1953 | 1959 | 904 | 3,777 | 34 | 143 | 131 |
| UT | Vic Wertz | 1950 | 1952 | 372 | 1,571 | 11 | 70 | 137 |
Source: Baseball-Reference.com

Table 2: Tigers All Star Pitchers: 1950-1959
| | | | | | | | | |
| --- | --- | --- | --- | --- | --- | --- | --- | --- |
| Pos | Player | From | To | G | IP | WAR | PR | ERA+ |
| SP | Frank Lary | 1954 | 1959 | 191 | 1,254 | 20 | 91 | 121 |
| SP | Jim Bunning | 1955 | 1959 | 150 | 841 | 13 | 44 | 112 |
| SP | Paul Foytack | 1953 | 1959 | 187 | 998 | 11 | 23 | 104 |
| SP | Billy Hoeft | 1952 | 1959 | 239 | 1,324 | 14 | 7 | 98 |
| RP | Ned Garver | 1952 | 1956 | 105 | 702 | 8 | 16 | 106 |
Source: Baseball-Reference.com
Player Profiles
C Red Wilson
Wilson platooned behind the plate with Frank House from 1954-1957 and ,as the right-handed hitter, he received fewer at bats than House. Wilson, however, out produced House with an OPS+ of 95 versus 85 as a Tiger in the fifties decade. He then took over the starting job in 1958 when House was traded to Kansas City. Wilson' best season was was 1956 when he had a 122 OPS+ and 2.2 WAR.
The auburn haired catcher was regarded as a good receiver. Detroit Sports columnist Watson Spoelstra said that "Red Wilson deserves an assist in the conclusion that improved pitching has made Detroit a solid first division club." (The Sporting News, July 15, 1955) The Tigers finished 79-75 in 1955 after four consecutive losing seasons.
The first base position was a revolving door for the Tigers in the 1950s with six different primary first basemen (player who who had the highest number at bats on the team as a first baseman in a given season). None had a WAR of more than 2.4 in a season. Clifford Earl Torgeson was the best with 2.4 and 1.8 WAR in 1955 and 1956 respectively.
The tall bespectacled first sacker had a .400 on base percentage and 119 OPS+ in just 831 plate appearances.
Torgeson had a 18.2% walk rate which was higher than any Tiger in the decade with 800+ plate appearances and fifth highest in team history (
Fangraphs.com
):
Eddie Yost 19.8%

Roy Cullenbine 19.1%

Aaron Robinson 19.0%

Mickey Tettleton 18.3%

Earl Torgeson 18.2%
Although well liked, by teammates and foes, the Earl of Snohomish was a fighter on and off the field. According to Mark Amour (SABR.org), Torgeson was once charged with assault for punching out two men in Seattle who had used vulgar language in front of his wife. The judge dismissed the case telling the assembled that "I would have done the same thing" (John Gillooly, Sportfolio, September, 1947).
2B Frank Bolling
Frank Bolling played six seasons with the Tigers missing one while serving in the military in 1955. He was a solid hitter and defender in 646 games with the Tigers during the decade. He never had a great season but was between 2 and 4 WAR each year between 1956-1959.
His best WAR as a Tiger was 3.6 WAR in 1958 when he won a Gold Glove and finished in the top ten in the American League in hits (164), doubles (25), times on base (222) and runs (91).
According to sports writer Tom Meany, Kansas City Athletics manager Harry Craft once (circa 1958) invited reporters to name the five most talented players in the American League. They suggested the likes of Al Kaline and Mickey Mantle. Craft responded: "If you are all through, I've got my man. Frank Bolling, the Tigers second baseman. He's magnificent. He can become one of the big men in the game"
(Sport Magazine, May, 1961).
SS Harvey Kuenn
Harvey Kuenn won the American League Rookie of the Year award at age 22 in 1953 leading the league in hits (209) and finishing in the top ten in batting average. Kuenn's reputation and numbers at shortstop were very poor which is why he became an outfielder at age 27, but he could hit. He led the league in hits four times and finished in the top ten in batting average six times between 1953-1959.
Kuenn's best season was 1959 when he hit .353 to win the American League batting title. Interestingly, he was traded to the Indians after the season for outfielder Rocky Colavito who led the league in home runs in 1959, a trade that turned out great for the Tigers.
3B Ray Boone
Ray was the patriarch of the Boone family which spanned three generations in the major leagues. His son Bob played 19 years as a catcher primarily with the Phillies and Angels and his grandsons Aaron and Bret were both long-time infielders. All the Boones played in all star games at some point during their careers.
Ray batted .312/.395/.556 in 101 games for the Tigers after being traded from Cleveland in 1953. His 156 OPS+ that year was the best for any Tiger third baseman other than Miguel Cabrera. He finished in the top ten in OPS four times as a Tiger.

LF Charlie Maxwell
The Michigan native had his best year in 1956 when he batted .326/.414/.534 with a 149 OPS+ and 5.9 WAR. He also reached 5 WAR in 1957.
CF Johnny Groth
In the Spring of 1949, Johnny Groth was described as a can't miss prospect or the next Joe Dimaggio. He hit two home runs on opening day and was batting .449 at the end of April which added to his expectations. He was profiled in a number of publications including Life, Newsweek, Saturday Evening Post and Time Magazine (Greg Erion, SABR.org).
Groth didn't live up to his advance billing, but he made the decade all star team as the best of a mediocre group at the position.
The right-handed batting Groth patrolled centerfield in Briggs Stadium from 1949-1952. His best season was 1950 when he batted .306 with a 117 OPS+.
Al Kaline joined the Tigers straight out of high school in 1953 at age 18 and remained with the organization in some capacity until his death in 2020. That amounted to more than half the team's existence. He led the league in batting (.340) and accumulated 8.2 WAR at the age of 20 in 1955. That turned out to be arguably his best season, but he had a lot of other great seasons in route to the Hall of Fame.


The legendary Bengal right fielder was really good at every facet of the game for a long time with two plus WAR for 18 consecutive years. Mr Tiger finished in the top 10 in WAR 11 times and in MVP voting 9 times. He will show up again on other decade teams.
UT Vic Wertz
Vic Wertz is best known as the Cleveland Indians batter who hit the long fly ball resulting in Willie Mays' famous catch and throw in game one of the 1954 World Series. Nothing that memorable happened during his nine years with the Tigers, but did have some good seasons at the plate.
Wertz finished in the American League top ten in both home runs (27 each year) and OPS+ (136 and 140) in both 1950 and 1951.
SP Frank Lary
The Mule was a very durable starter for the Bengals leading the league in innings pitched three times and in complete games three times. Lary's two best season were 1956 and 1958 exceeding six WAR both years. In 1956, the hard throwing righty won 21 games and posted a 132 ERA+ in 294 innings. In 1958, he had a 139 ERA+ in 274 innings.
Lary was best known as the "Yankee Killer" for his 28-13 lifetime record versus the perennial champs (
Jim Sargent, SABR
).
Jim Bunning
Bunning had, in effect, two baseball careers reaching 30 WAR with both the Tigers and Phillies. The Southgate, Kentucky native reached six WAR twice and led the league in strikeouts twice as a Tiger. Unfortunately, he was traded too soon as he had his three best seasons in Philadelphia from 1965-1967.
He was inducted into the Hall of Fame in 1996.
After his playing career, Bunning was a long-time Kentucky congressman serving in both houses.
Bunning's best season for the Tigers in the fifties was 1957 when he had a won-loss record of 20-6 and a 144 ERA+ in a league leading 267 innings. In 1959, he led the league with 201 strikeouts.


SP Paul Foytack
Foytack was a durable and dependable starter averaging 235 innings and a 119 ERA+ from 1956-1958. His WAR totals in those seasons were almost identical: 3.6, 3.7, 3.5.
Foytack had a propensity to give up gopher balls throughout his career and his final game was no exception.
In the last game of his career pitching for the Angels in 1964, Foytack gave up four consecutive home runs before departing, but had a sense of humor about it.
After the fourth homer, manager Bill Rigney came to the mound. According to Foytack, "Upon arriving Rigney said, 'Well, Paul, what do you think?' 'Gee, Bill,' I said, 'I think I am in pretty good shape. There's nobody on base.' (
Jerry Nechal, SABR
)
SP Billy Hoeft
Billy Hoeft pitched in Detroit from 1952-1959 logging more innings (1,324) than any other Tigers pitcher that decade. The tall trim southpaw had his
best season in 1955 when he finished sixth in the American League in both ERA (2.99) and WAR (5.4). He had four other years with two plus WAR during the decade.

He hit two home runs in one game on July 14, 1957.

According to Billy Nowlin of SABR, Hoeft once pitched a perfect game in legion ball where he struck out all 27 batters. That is quite a feat at any level.
The Tigers did not have any high leverage relievers in the fifties, so the fifth spot goes to Ned Garver, another starter. Garver, who pitched for 14 years with four teams, spent the middle part of his career from 1952-1956 with the Tigers.
Garver had his best years with St. Louis Browns leading the league in complete games in both 1950 and 1951. He maintained his durability with the Tigers with 45 complete games between 1953-1955, the fifth best total in the American League. His most impressive season in Detroit was 1954 when he was seventh in the league with a 2.81 ERA in 246 innings.