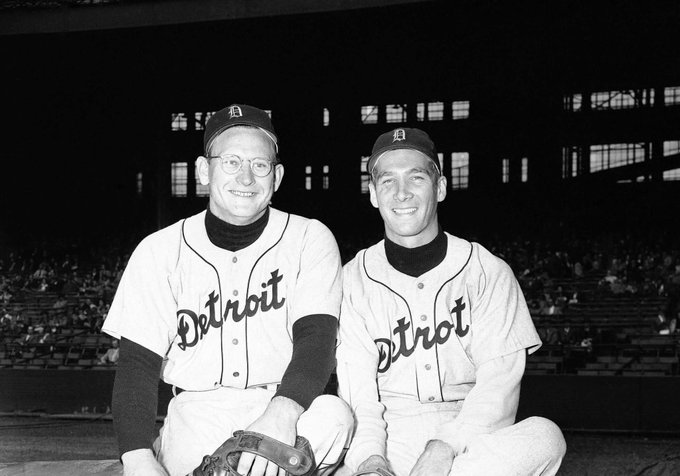 Tigers pitchers Hal Newhouser (right) and Dizzy Trout finished one two in the 1944 AL MVP voting.
(Photo credit: Detroit Tigers Twitter)
This week, I present the Detroit Tigers All Star team for the 1940-1949 decade. All Star teams for previous decades are found below:
In each decade, I select nine position players, one for each position on the field plus one other hitter. This ninth player could be a designated hitter, a multiple position player who didn't fit neatly into one position and/or the best hitter who didn't get selected as a position player. I refer to this final hitter as the utility player. Then I select five pitchers: four starters and one reliever. In earlier decades when relievers were not frequently used, it will just be the fifth best starting pitcher.
Some further general rules are as follows:
A player must have played at least half of his games with the Tigers at a given position or played that position more than any other position. In rare cases, I might cheat a little bit if none of the players qualifying at a given position are any good at all and there is a superior player who played a good number of games at that position.
A player must have played at least two full seasons with the Tigers, preferably at the assigned position.
Only games played with the Tigers are considered.
If a player played other positions with the Tigers besides his assigned position, his hitting performance in those games does count.
Many statistics and sometimes, especially for fielding evaluation, anecdotal information will be considered. For hitters, some of the statistics I consider are:
Games Played (G)

Plate Appearances (PA)

Wins Above Replacement (Baseball-Reference WAR),
Adjusted Batting Runs (ABR)
Adjusted On Base Plus Slugging (OPS+)
The follow are among those I use for evaluating pitchers:
The first four decades in Detroit Tigers history were dominated mostly by offense, but pitchers emerged as the stars of the 1940s. In an earlier post, I listed the top starting pitchers in Tigers history and seven of the top twenty pitched in the 1940s: Hal Newhouser (2), Tommy Bridges(3), Dizzy Trout(5), Virgil Trucks(8), Schoolboy Rowe(14), Fred Hutchinson(15), Bobo Newsom(19). It was arguably the best pitching decade for the Tigers in terms of excellence and depth. Some of those pitchers were ranked high, in part, because of their performance in the 1930s and 1950s, but the collection of talent still made it difficult the select a 1940s All Star staff.
Another thing which presented a challenge in picking 1940s All Stars was playing time missed due to service in World War II. Players that served in the war often missed three years (usually 1943-1945) and sometimes even longer. Conversely, those who were not called to duty or did not serve for whatever reason had the advantage of playing against a lower level of competition.
It ultimately was a successful decade for the franchise as they won two more pennants (1940 and 1945) and their second championship (1945).
The top Tigers of 1940-1949 by Wins Above Replacement were:
Hal Newhouser 54
Dizzy Trout 37
Virgil Trucks 22
Rudy York 19
Fred Hutchinson 18 (including 4 as a batter)
So, four of the top five were pitchers and Bridges (who will not make the 1940s team) tied Greenberg for sixth with 16 WAR. The decade All Star team is listed in Table 1 and 2 below and player profiles follow.
Table 1: Tigers All Star Position Players: 1940-1949
| | | | | | | | | |
| --- | --- | --- | --- | --- | --- | --- | --- | --- |
| Pos | Player | From | To | G | PA | WAR | ABR | OPS+ |
| C | Birdie Tebbetts | 1940 | 1947 | 427 | 1,539 | 2 | -42 | 77 |
| 1B | Rudy York | 1940 | 1945 | 924 | 3,995 | 19 | 105 | 124 |
| 2B | Eddie Mayo | 1944 | 1948 | 587 | 2,494 | 8 | -35 | 86 |
| SS | Eddie Lake | 1946 | 1949 | 471 | 2,066 | 4 | -15 | 86 |
| 3B | George Kell | 1946 | 1949 | 483 | 2,166 | 13 | 62 | 120 |
| LF | Hank Greenberg | 1940 | 1946 | 387 | 1,670 | 16 | 126 | 165 |
| CF | Barney McCosky | 1940 | 1946 | 449 | 2.015 | 10 | 39 | 113 |
| RF | Roy Cullenbine | 1945 | 1947 | 401 | 1.659 | 15 | 88 | 143 |
| UT | Dick Wakefield | 1941 | 1949 | 632 | 2,500 | 13 | 91 | 131 |
Table 2: Tigers All Star Pitchers: 1940-1949
| | | | | | | | | |
| --- | --- | --- | --- | --- | --- | --- | --- | --- |
| Pos | Player | From | To | G | IP | WAR | PR | ERA+ |
| SP | Hal Newhouser | 1940 | 1949 | 377 | 2,453 | 54.1 | 268 | 138 |
| SP | Dizzy Trout | 1940 | 1949 | 374 | 2,026 | 36.7 | 167 | 128 |
| SP | Virgil Trucks | 1941 | 1949 | 215 | 1,281 | 21.9 | 90 | 119 |
| SP | Fred Hutchinson | 1940 | 1949 | 144 | 912 | 14.4 | 54 | 114 |
| RP | Al Benton | 1940 | 1948 | 240 | 973 | 15.4 | 58 | 121 |
Player Profiles
C Birdie Tebbetts
George Robert Tebbetts batted .296 with a 92 OPS+ as the starting catcher for the 1940 American League pennant winners. He stayed on as the Tigers regular catcher in 1941-1942 making the All Star team both years largely due to his reputation as a smart catcher and great handler of pitchers. The Vermont native served in the military from 1943-1945 and struggled upon his return in 1946, although he made a comeback for the Red Sox later in the decade.
After retirement as player, Birdie was a manager for the Reds, Braves and Indians for 11 years and a scout for 28 years. He once gave this scouting report on a promising young pitcher: "Major League stuff and great arm. Screwy in the head. Eliminate the head and I recommend him. Get good surgeon." (The deadballera.com).
Many sources say that Tebbetts was called Birdie due to his high pitched voice, but Bill James reported that he was called Birdie the day he was born by his aunt who said he had lips like a little Birdie. (The New Bill James Historical Baseball Abstract)
1B Rudy York
After a few years of watching Rudy York lumber after passed balls as a catcher, the Tigers made a dramatic move in 1940. They paid Greenberg a $20,000 bonus, a very large sum in those days, to move to left field so that York could play first base. York responded by setting career highs in batting average (.316), slugging (.583) and RBI (134) making him an important cog on a pennant winner.
Big Rudy rarely missed a day from 1940-1945 averaging 154 games per season. His best season was 1943 when he led the American League in home runs (34), RBI (118) and slugging (.527) and finished third in the MVP voting. The right-handed first sacker was traded to the Red Sox for shortstop Eddie Lake prior to the 1946 season.
2B Eddie Mayo
Eddie "Hotshot" Mayo played in the National League from 1936-1938 with little success, but with rosters depleted due to service in World War II, he returned to the majors with the Athletics in 1943 at age 33. The Tigers selected Mayo in the Rule 5 Draft prior to 1944 and was their starting second baseman that year leading American League infielders with 34 Fielding Runs or Runs saved compared to the average second baseman (Gary Gillette, Pete Palmer, The ESPN Baseball Encyclopedia).
Steady Eddie had is best season in 1945 batting .285 with 112 OPS+ and finished fourth among infielders with 20 Fielding Runs. He finished second in MVP voting to teammate Hal Newhouser that year.
SS Eddie Lake
The Tigers did not have any really good shortstops in the 1940s, so I selected Eddie Lake who had the most games played (471) the highest WAR (4) as a shortstop. Lake had his best season 1945, the year before he came to the Tigers, posting a 137 OPS+ and 7.1 WAR for the Red Sox.
The five-foot seven-inch Lake played in more games and had more plate appearances than any player in baseball in 1946 and 1947 and had some odd ball stats as well. He managed to get into 158 games in a 154 game season in 1947 including four tie games. In that time, games would end in ties because of darkness or rain or because a team had to leave early to catch a train. Those games would not count in the standings and would be replayed at a later date, but the player statistics would still count.
The selective shortstop collected almost as many walks (120) as hits (127) in 1947 ending with a .211 batting average and .343 on-base percentage. Lake's numbers became even more extreme as a utility player in 1948-1949 with 118/99 walk to hit .226/.390 batting average/on-base percentage ratios. Those kinds numbers are sometimes seen in modern times by all or nothing sluggers like Mickey Tettleton, but not from light hitting middle infielders.
3B George Kell
Kell is typically automatically written down as the Tigers top third baseman when people put together a Tigers all-time All Star team (unless they allow Cabrera to be included), but there really is no clear cut winner. Kell and Travis Fryman are very close in terms of offensive career value and Fryman may have been a slightly better fielder (although not definitively so). You can make a case for Fryman at #1. You could also make a case for Ray Boone given his superior offense over four years. It was tempting to go contrarian and not pick Kell, but I ranked him number one on my all-time Tigers third basemen list.
In the 1940s alone, Kell was the easy winner at third base. His most memorable season was 1949 when he batted .343/.424/.467 with a 136 OPS+ and 4.8 WAR. He won the batting title that year by .0001 over the legendary Ted Williams. He was trailing going into the final game, but then went 2 for 3 while Williams went 0 for 2 in the finale. He finished in the to ten in the American League in hits, batting average and on-base percentage in 1946, 1947 and 1949.
LF Hank Greenberg
Baseball's first Jewish superstar, Greenberg was inducted into the Hall of Fame in 1956. The "Hebrew Hammer" won the American League MVP awards in both 1935 and 1940 and played on all four Tigers World Series teams (1934, 1935, 1940, 1945) of the '30s and '40s. Greenberg's best season in the 1940s was 1940 when he batted .340 and led the league in slugging average (.670), OPS (1.103) and Total Bases (384). His most dramatic moment of the decade would come later.
Hundreds of major league players would miss playing time (mostly from 1943-1945) as they served in World War II. Greenberg missed more than anyone as he volunteered early in 1941 missing most of that season, all of 1942-1944 and about half of 1945. In 1945, the final year of the war, the Tigers won their second pennant thanks, in part, to the efforts of returning hero Greenberg. After missing parts of five seasons due to the war, Hammerin' Hank blasted a dramatic game-winning grand slam on the final day of the season to beat the St. Louis Browns 6-3 and the Tigers clinched the pennant.
In the 1945 World Series, Greenberg hit .304 with two home runs, three doubles and 7 RBI. In his four World Series, the Tigers slugger hit .318/.420/.624 with 5 home runs and 22 RBI in 23 games.
CF Barney McCoskey
Barney McCosky was a leadoff hitter and strong defensive center fielder who averaged .318/.391/.443 with an OPS+ of 115 from 1940-1942. His best season was 1940 when he batted .340 and led the American League with 200 hits and 19 triples. He also had a solid World Series collecting 7 hits, 7 walks and getting on base at a .467 clip. He then missed three prime years serving in World War II from 1943-1945. The left-handed batting center fielder got off to a slow start in his return in 1946 and was then traded to the Phillies for third baseman George Kell.
RF Roy Cullenbine
Roy Cullenbine was an on-base machine with a lifetime on-base percentage of .408 and 132 OPS+. He walked in 17.8% of his plate appearances which is 7th all-time for players with at least 1,000 plate appearances (FanGraphs.com). The switch hitting Cullenbine had an even better percentage (19.8%) in his three years with the Tigers from 1945-1947. His finished second in OBP in 1945 (.400), third in 1947 (.401) and even better in 1946 (.477) in just 419 plate appearances. He also got on base in post-season with 8 walks, a .433 OBP and 5 runs scored in the 1945 World Series.
Cullenbine's skill set was underappreciated at the time. Indians General Manager Bill Dewitt said "Cullenbine wouldn't swing the bat. Sewell would give him the hit sign and he'd take it, trying to get the base on balls. Laziest human being you ever saw." (William B. Mead, Baseball Goes to WAR). In his final season in Detroit, he set Tigers records with 137 walks and 22 consecutive games with a walk. Not only that, but he had decent power hitting 24 home runs with a 125 OPS+. The problem was he batted just .224 and batting average was the primary way players were judged in those days. In fact on-base percentage was not generally tracked at the time. He never played in the majors again after that season.
UT Dick Wakefield
According to Donald Honig in Baseball Between the Lines, outfielder Dick Wakefield was one of baseball's first bonus babies signing with the Tigers for $52,000 out of the University of Michigan in 1941. The 6'4" 210 pound outfielder quickly lived up to his promise batting .316 with a league-leading 200 hits in 1943. He was off to an excellent start the next season batting .355 in 78 games before being drafted into the military. Thus, it is fair to say that that for the first part of the war Wakefield benefitted from shallow rosters of World War II, but that he also lost time the last one and a half years of the wear.
He returned to the majors in 1946, and never again batted .300 or played in more than 112 games, but he did continue to perform at high level dispelling the notion that his early success was completely due to depleted rosters. From 1946-1949, the left-handed batting Wakefield hit for a .390 OBP and 120 OPS+.
SP Hal Newhouser
Newhouser had not only the highest career WAR (59), but also the highest single-season WAR (11.3 in 1945) in Tigers history. The Detroit native had intended to join the armed forces when the United States entered World War II, but he was ineligible for services due to a heart murmur (BaseballHall.org). In 1944, he led the American league in wins (29) and strikeouts (187 K)and was second in ERA (2.22). The Tigers lefthander was even better in 1945 leading the league in almost every pitching category including wins (25), ERA (1.81), complete games (29), shutouts (8) and strikeouts (212). He won the American League MVP both years.
Newhouser's 1944-1945 seasons were surely enhanced by the lower level of competition during World War II, but Prince Hal continued to excel after the war averaging 6.8 WAR and 143 ERA+ from 1946-1949. The 1946 season, in particular, was just about as as good as 1945 season as he led the league in wins (26), ERA (1.94) and strikeouts per nine innings (8.5).
SP Dizzy Trout
Trout's best season was during the war in 1944 when he topped the league in innings (352), complete games (33) and ERA (2.12) and finished second to Newhouser in the MVP voting. He had no other season quite like that but he did reach three WAR or better eight times including six times in the 1940s.
Warren Corbett of SABR relates several tales about Trout which may or may not be true. The most famous one concerned Ted Williams:Trout struck out Williams to end a game, then asked Ted to autograph the ball. Williams turned and stomped away. The next time they met, Williams poled a long home run. As he rounded the bases, he called out, "I'll sign that one if you can find it."
SP Virgil Trucks
Oliver Virgil "Fire" Trucks averaged 133 ERA+ and 4.0 WAR from 1942-1943. He then missed almost two full prime seasons (all of 1944 and most of 1945) serving in the Navy during World War II. Trucks continued to pitch well when returned the game in 1946 accumulating 3.9 WAR that year. His best season was 1949 when he had 6.9 WAR and led the league with 153 strikeouts in 275 innings.
The Bengal right-hander was of only five pitchers to throw two no hitters in a single season accomplishing this feat in 1952.
SP Fred Hutchinson
In my ranking of top Tigers starting pitchers, Hutchinson's career evaluation was complicated by his missing four years (1942-1945) serving in World War II. What makes it difficult is that he pitched in the minors in 1941 making it impossible to know when he would have started pitching regularly in the majors. It is likely he would have added a couple of strong years though. I ultimately ranked him number 15. Upon returning from the WAR, Hutchinson averaged 3.6 WAR and 118 ERA+ from 1946-1949.
After his playing career, Hutchinson managed for 12 seasons, including three with the Tigers. When Hutchinson died of cancer in 1964, his older brother Dr William B. Hutchinson established the Fred Hutchinson Cancer Research Center, which later became internationally known (Baseball: The Biographical Encyclopedia).
The Tigers 1946 staff comprised of all four starters on this decade team (Newhouser, Trout, Trucks, Hutchinson) combined for 24.7 WAR. I looked at the top Tigers rotations in history to see where the 1946 staff ranked. My requirements for all staffs were that they had four pitchers with at least 20 starts, 162 innings pitched and 1 WAR. The top five ranked by total WAR are listed below.
1946 Hal Newhouser (9.6) Diz
zy Trout (7.6) Fred Hutchinsion (4.0) Virgil Trucks (3.5) Total (24.7)
2013 Max Scherzer (6.5) Anibal Sanchez (6.1) Justin Verlander (4.4) Doug Fister (4.0) Total (21.0)
1907 Ed Killian (6.3) Ed Siever (5.3) Bill Donovan (5.0) George Mullin (2.9) Total (19.5)
1949 Virgil Trucks (6.9) Hal Newhouser (5.4) Fred Hutchinson (3.9) Ted Gray (3.1) Total (19.3)
2012 Justin Verlander (8.1) Max Scherzer (4.4) Doug Fister (3.4) Rick Porcello (1.7) Total (17.5)
RP Al Benton
Benton was a swing man who didn't fit neatly in either the starter or reliever category, but he did pitch more games in relief (140) than he did as a starter (100) as a Tiger in the 1940s and I consider him the first successful Tigers reliever. He finished fifth in both ERA (3.30) and RE24 (59.3) among Tigers pitchers that decade.
In 1940, the Oklahoma native was the first Tigers pitcher to be used somewhat like a modern closer pitching 42 games and 79 innings strictly in relief and finishing 35 games. His 17 saves that year was seven more than any Tigers reliever prior to 1950.
Benton was the only pitcher to face both Babe Ruth (1934) and Mickey Mantle (1952)

According to Bill Nowlin of the Society for American Baseball Research, Benton notoriously made a name for himself after his career:
Indicted in May 1957 on charges of driving a stolen car from Sacramento to Oklahoma City three years earlier, Benton had been located in June at a hotel in Pontiac, Michigan. He fled when he learned that the agents had found him, and it took until October to arrest him in Salinas, California. He was also sought by Detroit police for questioning regarding cashing some phony checks. In January 1958, his attorney said that the check forgery charges had been dismissed after a $150 money order had been sent to make restitution. Benton was reportedly working at the time as a car salesman in Los Angeles.