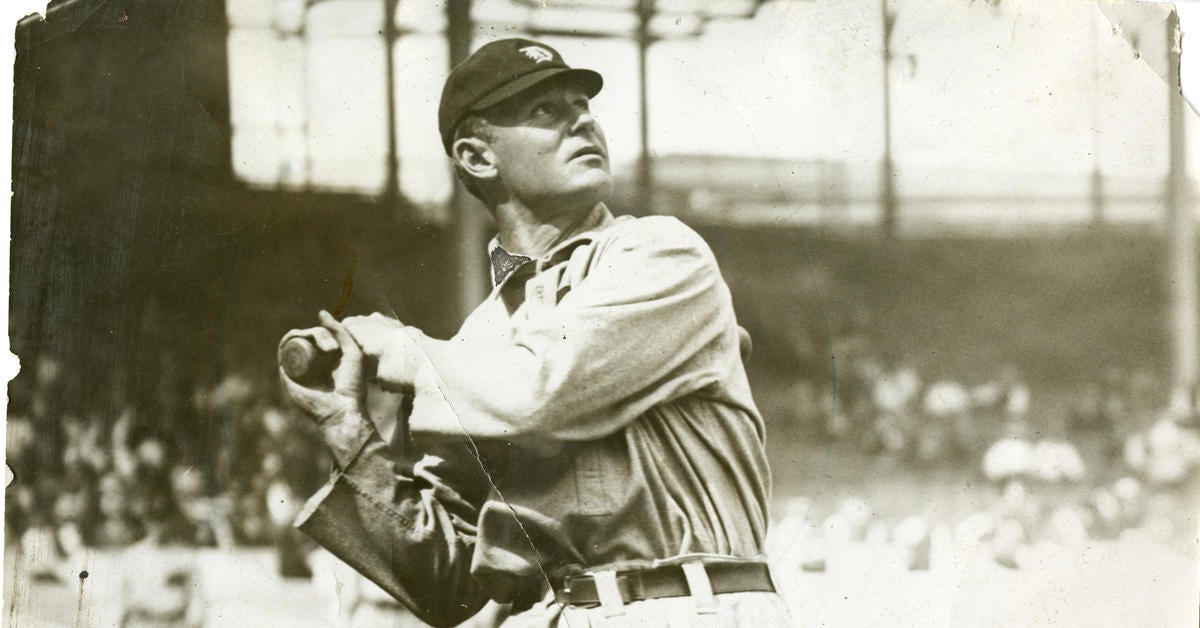 Hall of Fame outfielder Sam Crawford led the Tigers in WAR in the franchise's first decade.
(Photo credit: BaseballHall.org)
I am back. I have returned to Tiger Tales after a months long hiatus. My first writing project for the winter is going to be a compilation of Detroit Tigers All Star Teams by decade.
In each decade, I am going to select nine position players, one for each position in the field plus one other hitter. This ninth player could be a designated hitter, a multiple position player who didn't fit neatly into one position and/or the best hitter who didn't get selected as a position player. I refer to this final hitter as the utility player.
Then I will select five pitchers: four starters and one reliever. In earlier decades when relievers were not frequently used, it will just be the fifth best starting pitcher.
Some further general rules are as follows:
A player must have played at least half of his games with the Tigers at a given position or played that position more than any other position. In rare cases, I might cheat a little bit if none of the players qualifying at a given position are any good at all and there is a superior player who played a good number of games at that position.
A player must have played at least two full seasons with the Tigers, preferably at the assigned position.
Only games played with the Tigers are considered.
If a player played other positions with the Tigers besides his assigned position, his hitting performance in those games does count.
Many statistics and sometimes, especially for fielding evaluation, anecdotal information will be considered. For hitters, some of the statistics I consider are:
Games Played (G)
Plate Appearances (PA)
Wins Above Replacement (Baseball-Reference WAR),
Adjusted Batting Runs (ABR)
Adjusted On Base Plus Slugging (OPS+)
Many readers of this site probably use WAR and OPS+ (or its brother wRC+) regularly, but you can find explanations by clicking the links. Some readers may be less familiar with Batting Runs than the other listed measures. Batting Runs (which is basically the offensive portion of WAR) was first introduced in the Hidden Game of Baseball by John Thorn and Pete Palmer in 1984.

From examination of thousands of games, it has been determined that the average single contributes 0.47 runs. In other words, if one single is added to a team's hit total in each game for 100 games, that team would be expected to add 47 runs to their season total. The values for other events can be interpreted similarly. The weights are inserted into a formula to calculate batting runs (BR):

BR = 0.47 * 1B + 0.77 2B * 1.04 3B * 1.40 x HR + 0.31 * BB + 0.34 * HBP +.20 * SB - .42 CS- 0.28 * outs

In the above formula, outs are equal to at bats minus hits. The constant before outs (.28 in this example) is chosen so that the league average for BR is zero. It is generally between 0.25 and .30.

Note that there is not a standard set of linear weights for events. They vary slightly by analyst and by year, but different weights don't usually yield radically different results.

Finally Batting Runs is adjusted for ballpark factor to arrive at Adjusted Batting Runs (ABR). It is calculated from Baseball-Reference as rbat (the batting part) + rbaser (the base running part).
Measuring defense, especially for players that played many decades ago, is difficult. We do not have enough information to evaluate player defense precisely. However, I believe we have enough to identify who was a great defender and who was a bad defender and that will be taken into consideration. Some sources which attempt to measure historic defense are:
Wizardry by Michael Humpreys
Win Shares by Bill James
The ESPN Baseball Encyclopedia by Gary Gillette and Pete Palmer
For more recent players we can also look at measures such as Defensive Runs Saved found at FanGraphs.com.
For pitchers, some of my favorite measures are:
In order to give pitchers credit for quantity of innings pitched as well as quality,

Palmer

introduced the Pitching Runs

statistic in 1984.

Pitching Runs tells us the number of runs saved or lost by a pitcher compared to league average. It is based on a pitcher's IP and ER and the league ERA (Lg ERA):

Pitching Runs = IP x Lg ERA/9 – ER
Now, that we are clear on the rules and measures, let's start at the beginning with the 1901-1909 All Stars. The first decade is most known for the Tigers three consecutive American League pennants and World Series losses from 1907-1909. It also marked the beginning of the Hall of Fame career of the legendary Ty Cobb. As you might expect from a franchise that produced three league champions, there were many other notable players from that era.
The top players according to WAR were:
Sam Crawford 34 (outfielder)
George Mullin 33 (as a pitcher and hitter)
Bill Donovan 29 (pitcher)
Ty Cobb 26 (outfielder)
Ed Killian 24 (pitcher)
Those were all easy All Star selections, but there were also several positions with no star quality players which made the selection process interesting. The All Stars are listed in Tables 1 and 2 below. Their stories follow.
Table 1: Tigers All Star Position Players: 1901-1909
| | | | | | | | | |
| --- | --- | --- | --- | --- | --- | --- | --- | --- |
| Pos | Player | From | To | G | PA | WAR | ABR | OPS+ |
| C | Boss Schmidt | 1906 | 1909 | 378 | 1341 | 7 | -32 | 76 |
| 1B | Claude Rossman | 1907 | 1909 | 373 | 1510 | 4 | 19 | 115 |
| 2B | Germany Schaefer | 1905 | 1909 | 626 | 2524 | 5 | -18 | 94 |
| SS | Kid Elberfeld | 1901 | 1903 | 286 | 1219 | 8 | 21 | 109 |
| 3B | Bill Coughlin | 1904 | 1908 | 593 | 2376 | 3 | -44 | 80 |
| LF | Matty McIntyre | 1904 | 1909 | 712 | 3092 | 16 | 47 | 114 |
| CF | Jimmy Barrett | 1901 | 1905 | 589 | 2630 | 14 | 58 | 117 |
| RF | Ty Cobb | 1905 | 1909 | 595 | 2478 | 26 | 146 | 163 |
| UT | Sam Crawford | 1903 | 1909 | 1038 | 4418 | 34 | 201 | 147 |
Table 2: Tigers All Star Pitchers: 1901-1909
| | | | | | | | | |
| --- | --- | --- | --- | --- | --- | --- | --- | --- |
| Pos | Player | From | To | G | IP | WAR | PR | ERA+ |
| SP | George Mullin | 1902 | 1909 | 330 | 2592 | 25 | 12 | 103 |
| SP | Bill Donovan | 1903 | 1909 | 210 | 1746 | 29 | 51 | 109 |
| SP | Ed Killian | 1904 | 1909 | 194 | 1462 | 24 | 46 | 111 |
| SP | Ed Siever | 1901 | 1908 | 143 | 1036 | 17 | 54 | 121 |
| RP | Ed Summers | 1908 | 1909 | 75 | 582 | 8 | 26 | 127 |
Profiles
C. Charles "Boss" Schmidt
Schmidt was born in London, Arkansas in 1880 and grew up in Coal Hill Arkansas where he worked in a coal mine as a youngster. According to OnlyinArk.com, he earned the name "Boss" from fellow miners due to his physical strength and toughness. He played with the Tigers from 1906-1911 and was the regular catcher on the 1907-1909 pennant winners. Unfortunately, he batted just .159 in the three series combined and made the last out in 1907 and 1908, making him the only player to make the last out in two World Series.
The switch hitting catcher was known more for his grittiness than his mediocre diamond skills. He fought the pugnacious Ty Cobb on multiple occasions once breaking his nose. He also would not wear shin guards because he thought they were unmanly and allegedly challenged teammates to hit him in the stomach as hard as they could.
1B. Claude Rossman
Rossman was the regular first baseman on Tigers pennant winners in 1907-1908 and had his best season in 1908 when he finished first in the American league in slugging average (.418) and fifth in OPS+ (139). He was known as an excellent bunter and strong defender with tremendous range.
The Philmont, New York native fell out of favor with manager Hugh Jennings and was traded to the St. Louis Browns in 1909 (Ralph Berger, Society for American Basseball Research) He had a mental breakdown after his playing career and ended up in a mental hospital (or hospital for the insane as it was sadly considered at the time) where he died in 1928.
2B. Germany Schaefer
William Herman Schaefer was a versatile infielder for the bengals from 1905-1909, playing most often at second base. His best season in Detroit was 1908 when he had 3.8 WAR and posted a 107 OPS+.
The Chicago native was famous for stealing first base in a game versus Cleveland in 1907 (Baseball: The Biographical Encyclopedia, David Pietrusza, et al.) With Schaefer on on first and teammate Davy Jones on third, Schaefer stole second base. He then stole first in an effort to draw a throw from the catcher. It didn't work. So, he then took off for second again this time drawing a throw with both runners advancing safely.
On another occasion, the outlandish Schaefer was coaching third base and was called on to pinch hit. He announced to the opposing crowd: "Ladies and gentleman, permit me to introduce to you Germany Schaefer, the world champion batsmen who will now give you a demonstration of his batting ability." He proceeded to crush a game winning homer and then slid into every base announcing to fans his arrival at each bag.
SS. Kid Elberfeld
Elberfeld only played two full seasons for the Tigers (1901, 1902), but was fourth all-time among Tigers shortstops in OPS+ (109). His best season in Detroit was 1901 when he accumulated 3.8 WAR and had a 125 OPS+.
The 5'-7" 158 pound infielder was the the epitome of grit. According to the Biographical Encyclopedia of Baseball, The Tobasco Kid was spiked often and when cut he would go back to the bench, cauterize his wound with whiskey and then continue playing.
3B. Bill Coughlin
Coughlin is probably the weakest link on this All Star team compiling a 80 OPS+ in 593 games from 1904-1908. The dearth of Tigers third base talent will become a theme all throughout this Decade All Stars Series. Not only was Coughlin a relatively weak hitter, there is no evidence he was a strong defender. According to Wizardry by Michael Humpreys, Coughlin allowed 73 more career runs than an average third baseman would have allowed given the same number of plays. Regardless, he was appreciated at the time he played and was named captain of the 1907-1908 squads.
"Rowdy Bill" was the only player to successfully execute the hidden ball trick in a World Series game catching Cubs outfielder Bill Slagle napping in game two of the 1907 series (OurGame.mlblogs.com).
LF. Matty McIntyre
Matty McIntyre is best remembered as being being part of the clique that tormented Ty Cobb during his early years with the Tigers, but he also performed well on the field reaching 2+ WAR four times. His best season was 1908 when he had 6 WAR and led the league with 258 times on base.
CF. Jimmy Barrett
Jimmy Barrett was one of the players that hazed and infuriated Ty Cobb in his early days as a Tiger. Barrett also wasn't on the best of terms with his manager Edward Barrow. In Barrow's autobiography My Fifty Years in Baseball, he writes that Barrett said to him: "Mr. Barrow, your methods take all the individuality away from a player" Barrow responded: "Young man, if you ever speak to me that way again, I will take more than your individuality away from you. I will knock your block off."
So Barrett was not the easiest guy to get along with but he was a solid player both offensively and defensively. Barrett was the Tigers first star in their opening season in 1901 with a 108 OPS+, strong defense and 2.7 WAR. His best season was 1903 when he led the league with a .407 OBP and had an OPS+ of 144.
RF. Ty Cobb
Ty Cobb was just getting started in his illustrious career, but he was still an easy choice for this team. He led the league in batting average (.350), slugging (.468) and OPS (.846) at age 20 in 1907. He topped the league in all three categories again in 1908 and 1909 (when he also added on base percentage leadership).
Much has been said about The Georgia Peach's character flaws and there are debates about whether he was truly a bad person or just a product of his time period. It's probably some complex combination of both, but there are no doubts about his talents as a player as he is inarguably at the top of the list of the game's all-time greats. He is 4th in lifetime WAR behind Babe Ruth, Barry Bonds and Willie Mays and second in Offensive WAR behind Ruth. He led the American League in batting average twelve times, slugging eight times, OPS ten times and the list goes on and on.
UT. Sam Crawford
Crawford gets the utility spot, not because he's an after thought but because others fit neatly into primary positions whereas he played all three outfield positions and first base during the decade. Indeed, he led the Tigers in WAR for the decade (34) including five seasons of 5+.
In the early 19th Century's Dead Ball era, triples were far more common than home runs and were considered an indicator of power hitting. Sam Crawford led the league in triples six times including totals of 26, 25, 23 and 22. As a slugger, Wahoo Sam played in the wrong era and Bill James estimated in the Bill James Historical Baseball Abstract that he would have hit 494 home runs had a played 20 years later. Crawford was also a fine athlete with great speed and a strong arm and I suspect WAR might be underestimating his base running and defense.
SP. George Mullin
Wabash George was the Tigers decade leader in games (330) and innings pitched (2,592). He is the all-time Tigers leader in innings (3,394) and complete games (336). His 32 innings pitched in the 1909 World Series is the most ever for any seven-game World Series.

According to David Cicotello of SABR, Mullins was a character on the mound:
Mullin perfected a number of eccentric strategies to gain an advantage over hitters. At critical times, Mullin chose the "stall," wherein he distracted the batter with tactics of walking off the mound, loosening or tightening his belt, fixing his cap, re-tying his shoes, and removing imaginary dirt from his glove. Mullin also incessantly talked to himself, to batters, and to fans of opposing teams who would heckle him when he engaged in his act. Mullin was also superstitious and believed team mascot Ulysses Harrison, an African-American orphan whom the players nicknamed "Li'l Rastus," brought him good luck.
SP. Wild Bill Donovan
Donovan earned the nickname "Wild Bill" due to his volatile temper and busy social life (Doug Skipper SABR). In his first season with the Tigers in 1903, Donovan had 7 WAR in 307 innings pitched. He never duplicated that season, but he was the best of the Tigers Deadball era hurlers.
SP. Ed Killian
Killian's 7.2 WAR in 1905 was the highest of any Tiger before 1939. The Detroit southpaw had a 120 ERA+ with a league-leading eight shutouts in 313 innings that year. According to Dan Holmes of SABR, Killian won both games of a double header effectively clinching the 1909 pennant. Holmes also noted that Killian was incredibly stingy even for the Deadball era about home runs allowing just nine in his career and zero in three full seasons from 1902-1904.
SP. Ed Siever
Siever's 195 ERA+ in 188 innings pitched in 1902 is tied for the best ever (with Newhouser in 1945) for a full-season Tigers starter.

Siever once got into a fight with the legendary Ty Cobb. This is how Ty Cobb told it (abstracted from Baseball-Reference bullpen):
"Pitching that day for our side was Ed Siever, one of the anti-Cobb ring. (After a ball bounced between Cobb and another outfielder) back in the dugout he cursed me... that night ... Siever ... started one that would have removed my head had it landed... But I smothered the blow and ... hit him a right to the jaw ... Tom McMahon, our trainer (said) 'You did only one thing wrong ... You kicked Siever after you had him down." - Ty Cobb's version of an altercation with Ed Siever, from the book My Life in Baseball: The True Record, one in which he denied kicking Siever when he was down.
RP. Ed Summers
Summers did not have a lot of relief appearances (few did during that era), and makes this team as the fifth best starting pitcher. One of baseball's first knuckleballers (Phil Williams, SABR), Kickapoo Ed Summers was was good for three years before flaming out. Summers averaged 3.6 WAR and 119 ERA+ between 1908-1910 and was a big part of two pennant winners in 1908-1909. Unfortunately, he struggled in post-season losing all four of his World Series starts.