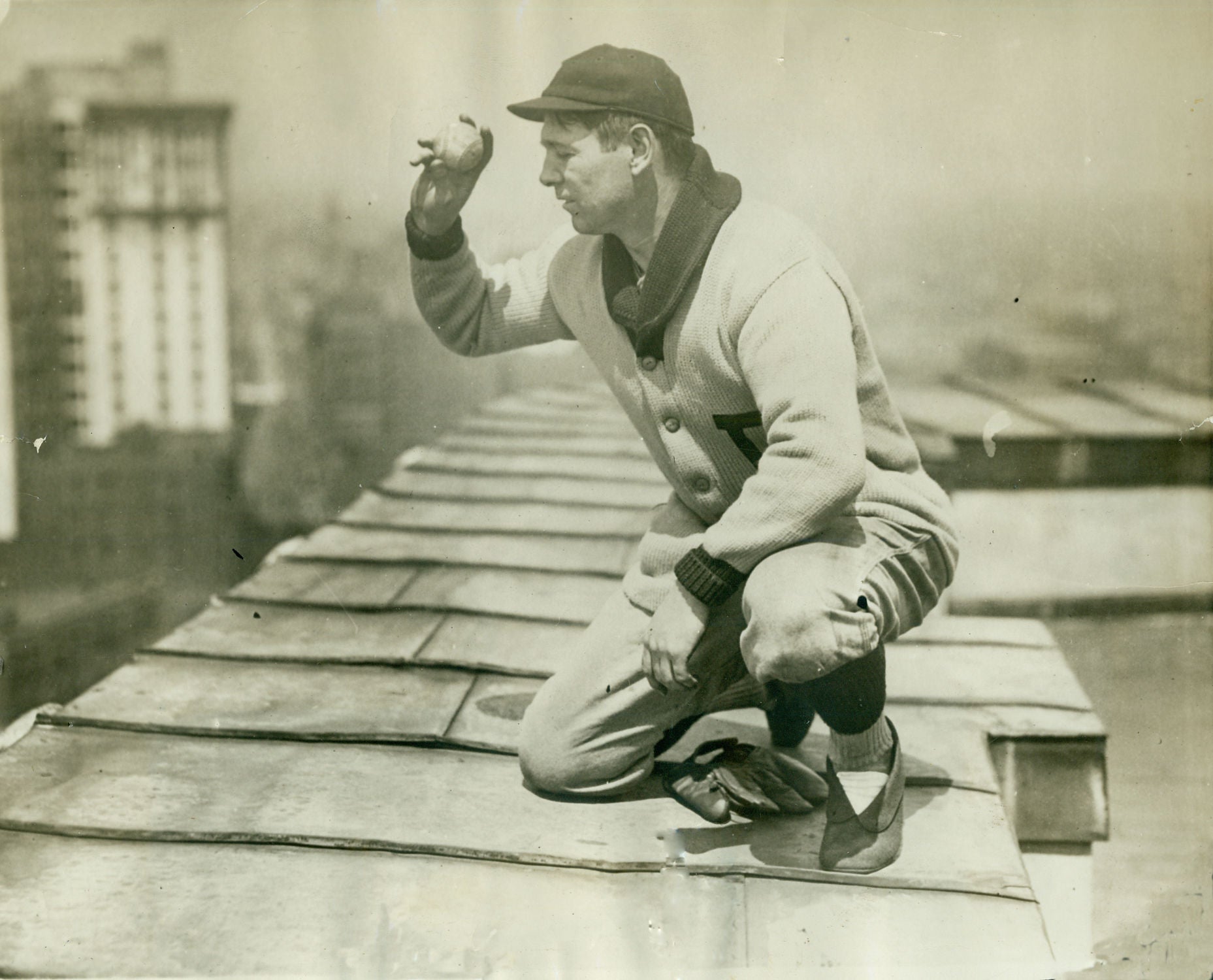 Hall of Fame outfielder Harry Heilmann appears to be throwing a ball off a stadium roof. Who was the lucky fan?
(Photo credit: BaseballHall.org)
This week, I present the Detroit Tigers All Star team for the 1920-1929 decade. All Star teams for previous decades are found below:
In each decade, I select nine position players, one for each position in the field plus one other hitter. This ninth player could be a designated hitter, a multiple position player who didn't fit neatly into one position and/or the best hitter who didn't get selected as a position player. I refer to this final hitter as the utility player. Then I select five pitchers: four starters and one reliever. In earlier decades when relievers were not frequently used, it will just be the fifth best starting pitcher.
Some further general rules are as follows:
A player must have played at least half of his games with the Tigers at a given position or played that position more than any other position. In rare cases, I might cheat a little bit if none of the players qualifying at a given position are any good at all and there is a superior player who played a good number of games at that position.
A player must have played at least two full seasons with the Tigers, preferably at the assigned position.
Only games played with the Tigers are considered.
If a player played other positions with the Tigers besides his assigned position, his hitting performance in those games does count.
Many statistics and sometimes, especially for fielding evaluation, anecdotal information will be considered. For hitters, some of the statistics I consider are:
Games Played (G)

Plate Appearances (PA)

Wins Above Replacement (Baseball-Reference WAR),
Adjusted Batting Runs (ABR)
Adjusted On Base Plus Slugging (OPS+)
The follow are among those I use for evaluating pitchers:
The Roaring Twenties was not a winning period for the Tigers who finished in the middle of the American League most years and extended their pennant drought to two decades. Their best season was 1924 when they finished 86-68 and six games behind the pennant winning Washington Senators. Much like the teens, the twenties featured explosive line-ups and porous pitching staffs. The Tigers of 1920-1929 had a hard-hitting group of outfielders as they did in 1910-1919, but the twenties squads also had a catcher and some infielders who could hit.
The top five Tigers of 1920-1929 by Wins Above Replacement were:
Harry Heilmann 57
Ty Cobb 35
Johnny Bassler 21
Lu Blue 21
Hooks Dauss 18 (including 2 as batter)
The rest of the All Stars are shown in Tables 1 and 2 below and player profiles follow.
Table 1: Tigers All Star Position Players: 1920-1929
| | | | | | | | | |
| --- | --- | --- | --- | --- | --- | --- | --- | --- |
| Pos | Player | From | To | G | PA | WAR | ABR | OPS+ |
| C | Johnny Bassler | 1921 | 1927 | 767 | 2,770 | 21 | 55 | 106 |
| 1B | Lu Blue | 1921 | 1927 | 925 | 4,133 | 21 | 81 | 110 |
| 2B | Charlie Gehringer | 1924 | 1929 | 578 | 2,529 | 15 | 55 | 116 |
| SS | Topper Rigney | 1922 | 1925 | 493 | 2,006 | 11 | 23 | 105 |
| 3B | Marty McManus | 1927 | 1929 | 401 | 1,660 | 7 | 0 | 102 |
| LF | Bobby Veach | 1920 | 1923 | 573 | 2,409 | 16 | 73 | 123 |
| CF | Ty Cobb | 1920 | 1926 | 877 | 3,830 | 35 | 253 | 148 |
| RF | Harry Heilmann | 1920 | 1929 | 1,417 | 6,115 | 57 | 457 | 156 |
| UT | Bob Fothergill | 1922 | 1929 | 747 | 2,540 | 13 | 82 | 125 |
Table 2: Tigers All Star Pitchers: 1920-1929
| | | | | | | | | |
| --- | --- | --- | --- | --- | --- | --- | --- | --- |
| Pos | Player | From | To | G | IP | WAR | PR | ERA+ |
| SP | Hooks Dauss | 1920 | 1926 | 269 | 1,522 | 16 | 16 | 104 |
| SP | Earl Whitehill | 1923 | 1929 | 224 | 1,435 | 15 | 15 | 102 |
| SP | Rip Collins | 1923 | 1927 | 137 | 742 | 6 | 4 | 105 |
| SP | Herman Pillette | 1922 | 1924 | 106 | 563 | 6 | 21 | 114 |
| RP | Ownie Carroll | 1925 | 1929 | 109 | 645 | 7 | 10 | 107 |
Player Profiles
C Johnny Bassler
Bassler was strong both offensively and defensively and was ranked by Bill James as the 47th best catcher all time (The New Bill James Historical Baseball Abstract). He had 7 seasons of 2 WAR or better including 1924 when he hit .346/.441/.422. He had an on-base percentage of .400 or better in each of his seven seasons with the Tigers.
The left-handed batting backstop's .416 lifetime On-Base Percentage was second all-time to Mickey Cochrane (.419) among Major League catchers.
While he was an on-base machine, Bassler had no power, hitting just one home run in over 2,866 MLB plate appearances. The only other players with just one homer in over 2,500 plate appearances were infielders Floyd Baker, Duane Kuiper and Emil Verban.
1B Lu Blue
Like Bassler, Blue had little home run power, but had a propensity to get on base posting on-base percentages of .400 or better five times with the Tigers. The switch-hitting first sacker was also a model of consistency with the following WAR totals from 1921-1926: 2.9, 3.6, 3.3, 3.3, 3.7, 2.8. Blue was also known to be a smooth defender and was a speedy base runner for a catcher reaching double figures in stolen bases most years.
Blue hit better in the majors than the minors to which he gave credit to Tigers manager Ty Cobb (Court Vitty, SABR.org). Through Cobb, Blue learned about pitch sequencing which allowed him to anticipate pitches based on counts. He quickly gained tremendous strike zone judgement and selectivity and walked over 100 times in four years during his career.
2B Charlie Gehringer
Hall of Famer Charlie Gehringer was nicknamed The Mechanical Man by Yankees hurler Lefty Gomez because "you just wind him up on opening day and forget him". Gehringer wasn't flashy but was one of the greatest second basemen in the history of the game. The left-handed batting second baseman did not peak until the 1930s, but was still a star in the latter part of the twenties averaging 125 OPS+ and 4.7 WAR between 1927-1929.
Like many Tigers of the early eras, Gehringer's relationship with Ty Cobb was strained: "Cobb was a hateful guy. Nobody liked him as a manager. He was such a great player himself, he figured that if he told you something, there was no reason why you couldn't do it as well as he did. But a lot of guys don't have that ability. He couldn't understand that...But he was super for the first couple years I was up. Golly, he was like a father to me...Then all of a sudden he got upset with me about something. To this day I don't know what it was. He would hardly speak to me. He wouldn't even tell me what signs I was going to get from the coaches. Weird. But he kept playing me, so it didn't really matter whether he talked to me or not." (Richard Bak, Cobb Would have Caught it via SABR.org)
SS Topper Rigney
Emory Elmor Rigney played only three full seasons, but was one of the Tigers best offensive shortstops. He posted an OPS+ of 108 from 1922-1924. His best season was 1924 when he registered a 113 OPS+ and 4.6 WAR. It is unknown where the "Topper" nickname originated, but the five-foot-nine-inch Rigney was also referred to as "midget" - although 5'9" was not especially short for the time - and "trim" (Bill Nowlin, SABR.org).
Rigney reportedly signed with the Tigers in 1917 but he went into the Navy and the Tigers forgot about the agreement (Imagine that happening today!). Owner Frank Navin came across the contract in 1920 and immediately contacted Rigney (SanD Diego Union, March 13, 1920)
3B Marty McManus
McManus was a decent glove man who averaged 104 OPS+ and 2.3 WAR between 1927-1929. It was difficult to choose between Marty McManus and Fred Haney, but McManus' 1930 season, just one year outside the decade window, broke the tie. The St. Louis native hit for a 118 OPS+ and contributed 4.4 WAR that year.
Not many players have been as enthused about being traded to the Tigers as McManus. In a Detroit Free Press article dated January 29, 1927, McManus was reportedly "unmistakably pleased with the trade that freed him of his contractual obligations to the St. Louis (Browns) club and would repay the Detroit club for rendering him a service by playing his head off for manager Moriarty...Detroit has always appealed to him as a baseball town. For the past two years, McManus figured in rumors of a trade that would land him in this city, but always, until the exchange was completed, Marty merely had lived on hopes" (Newspapers.com).
LF Bobby Veach
According to Bob O'Leary (SABR.com), Bobby "Veach was known to be easy going, steady and unassuming, characteristics that put him in stark contrast to, and at times at odds with, the volatile Ty Cobb who played next to him. At five feet 11 inches and a slim 165 pounds, Veach was small for a power hitter, but as baseball writer Fred Lieb noted, he 'packed a terrific punch for his size.'"
The Tigers outfielder peaked in the teens, but still had a lot left in the first part of the twenties decade averaging 125 OPS+ between 1920-1922. In those three years, he finished in the top ten in doubles (116), triples (41) and total bases (903). He also finished in the top ten in doubles and total bases every year from 1915-1922.
CF Ty Cobb
Hall of Fame outfielder Ty Cobb makes his third decade All Star team as he finished off his long career in the twenties. Cobb was 33 years old entering the decade, but he was far from done. The legendary Cobb batted .361 with a 148 OPS+ from 1920-1926 and also managed the Tigers from 1921-1925. He did not add to his 11 batting titles, but he finished in the top ten in batting every year from 1920-1925. He batted .338 in 1926, but did not have enough plate appearances to qualify. He led the league with a 171 OPS+ at age 38 in 1925.
RF Harry Heilmann
Hall of Fame slugger Harry Heilmann's career was overshadowed by Cobb, but he was an amazing hitter in his own right. He had a particularly remarkable stretch from 1921-1927 batting .380 with a 167 OPS+ including four batting titles (all in odd numbered years):

1921 .394
1923 .403
1925 .393
1927 .398
Heilmann ranked high among all MLB players in most offensive categories from 1920-1929 including:
WAR 57 (1st)
ABR 452 (3rd)
BA .364 (2nd)
OPS+ 156 (5th)
UT Fats Fothergill
The five-foot ten-inch, 230-pound Bob Fothergill was given the unflattering nickname "fats" or "fatty" early in his career. Despite his size, Fothergill was fairly athletic with decent speed and a strong arm, although not a smooth fielder. Most of all though, Fothergill was a skilled batsman averaging 135 OPS+ and 2.9 WAR from 1926-1929.
The right-handed batting Fothergill was a free spirit with a flair for showmanship that helped earn him the name, "The People's Choice," from fans in Detroit. "Fothergill doesn't go into a base upright if he can help it," wrote Bud Shaver in the Detroit Times, "for that would mean the elimination of his swan-diving slide, and such a thing would be unthinkable. Robert is too much the artiste to be this callous to his public." ( via Richard Bak, VintageDetroit.com).
In another instance, Fothergill once dido a front flip landing on his feet on the plate after rounding the bases for a home run (Bob Nowlin,SABR.org).
SP Hooks Dauss
At 5-10 and 168 pounds, George August Dauss was once deemed too small to be a major league pitcher. That didn't stop him from pitching 3,390 innings over 15 seasons and becoming the all-time Tigers leader in wins (223). He was nicknamed Hooks or Hookie for his signature curveball (Bob O'Leary, SABR).
At first glance, Dauss appeared to be a much better pitcher in the teens than the twenties with a 2.85 ERA in the former and 3.86 in the latter. However, that was a reflection of the difference in the game between the dead-ball and live-ball eras. His ERA+ was actually lower in the teens than the twenties (101 versus 104).
SP Earl Whitehill
Whitehill was never an elite pitcher, but he finished two WAR or higher eight of his ten years in Detroit. His best season was 1927 when he posted a 125 ERA+ in 236 innings. A popular tale suggests that Earl's wife Violet Oliver was the original model for the Sunmaid Raisins "maiden". Is it true? Bill Johnson of SABR writes that the rumor has been debunked by the company. It's still a good story though.
SP Rip Collins
The pickings get slim after Dauss and Whitehill as the Tigers lacked pitchers with sustained success in the 1920s. Harry Warren Collins should not be confused with the somewhat more famous Ripper Collins, a first baseman in the National League in the 1930s. Collins, the pitcher, worked from 1923-1927 achieving a 105 ERA+ in 742 innings. The only time he reached 200 innings with the Tigers was in 1924 when had a 128 ERA+ in 216 innings, good for seventh in the American League.
The Weatherford, Texas native was nicknamed "Rip" after a pre-Prohibition brand of whiskey. He was a drinking man that enjoyed the night life perhaps more than the game. He was described as a man with a million dollar arm and 25 cents worth of enthusiasm (Baseball: The Biographical Encyclopedia)
SP Herman Pillette
Pillette's Major League career, all with the Tigers but for one inning with the Reds in 2017, was limited to just 564 innings. His best season in 1922 was also the top season in terms of WAR (5.8) for a Tigers starting pitcher in the decade. He worked 275 innings that year and posted 2.85 ERA which was second best in the American League. He was not same after that season and suffered a sore arm in 1924 which ended his Major League career.
The end of Pillette's Major League career was not the end of his professional career by any means. He continued to pitch the next 21 years in the Pacific Coast League throwing his last pitch at 49 years old. Back tracking his career to 1917, he pitched a total of 29 professional seasons!
RP Ownie Carroll
Relievers gained in popularity in the 1920, but they were still largely pitchers who were weren't effective enough to be starters and were not typically used in high leverage spots. Lil Stoner had an all star name and a great story, but he wasn't good at all. So, I selected Ownie Carroll although he was primarily a starter. He also has a pretty good name. Ownie's best season was in 1928 when he finished sixth in the American League in WAR (5.1) and ninth in ERA (3.27).
Carroll does not have much of a story, so let's talk about The Lil Stoner. Ulysses Simpson Grant Stoner had brothers named Benjamin Franklin Stoner, William McKinley Stoner and Theodore Roosevelt Stoner (Bob Hurte, SABR.org). His little brother Ted (Theodore Roosevelt) could not pronounce "Ulysses" and he called him "Lil" which led to his nickname.
Lil's older brother Mac (William McKinley) nearly chopped off Lil's finger with a hatchet when Lil was a toddler. It eventually reattached itself but became permanently crooked which probably helped him with the movement of his pitches.