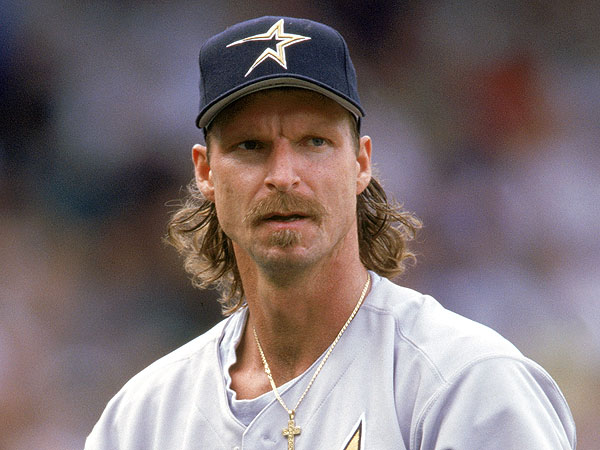 Strikeout king Randy Johnson should make Hall-of-Fame in first year on ballot.
(Photo credit: Ron Vesely, Getty Images)
There were three new Hall-of-Fame Inductees in 2014 - pitchers Tommy Glavine and Greg Maddux and first baseman Frank Thomas - but new candidates and many worthy holdovers still leave the 2015 ballot quite crowded. The log jam is due largely to confusion and division on how to deal with players linked to the Performance Enhancing Drugs (PED). There are 34 eligible players and writers can vote for up to 10 candidates. Unless a voter favors a very small elite Hall of Fame, this makes it virtually impossible to fill out a ballot without leaving off some deserving names. I, of course, do not have a vote, but will fill my theoretical ballot here.
My selection process involves comparing players to their contemporaries, other players at the same position and current Hall-of-Fame members. I value peak performance and career performance equally. I use many traditional and advanced statistics, most of which can be found on Baseball-Reference and FanGraphs. Some of my favorites are plate appearances, batting average, on-base percentage, slugging average, batting runs, wOBA,and WAR for hitters and innings pitched, ERA, pitching runs, strikeouts and WAR for pitchers. I used multiple WAR statistics in my analysis, but any WAR cited below is Baseball-Reference WAR.
I do not bring PED use into my thought process. The use of PEDs has been very widespread, not only in the 1990s and 2000's, but all the way back to the sixties and even further. It is impossible to know which players stayed clean and which used and how much it affected their performance. Eliminating or even judging players based on suspicion seems very unfair to me. It also seems pretty obvious that the game turned a blind eye to the problem for many decades. Thus, I consider PED use to have been part of the game and choose players solely based on their on-field performance.
Now, for my ballot:
Barry Bonds
: He was the greatest player of his generation and is on a very short list of the best players ever. You can't have a Hall of Fame without him.
Roger Clemens:
As with Bonds, the Hall-of-Fame would not make much sense if it excluded Clemens.
He is one of the five best pitchers in the history of the game.
Randy Johnson:
He was one of the most dominant pitchers of any era
finishing second all time with 4,875 strikeouts and posting 5 top of the 11 strikeout totals ever.
His
career WAR of 104 was seventh best among pitchers.
Pedro Martinez: Like Clemens and Johnson, Martinez is an obvious selection. Martinez did not have as many great years as the other two, but his 86 WAR was 14th best ever and his 291 ERA+ in 2000 was the best in the history of MLB.
Jeff Bagwell
: Not on the same level as Bonds, but still a slam-dunk selection. He is 21st all-time in Batting Runs and has a WAR comparable to Rod Carew, Joe Dimaggio and Pete Rose.
Mike Piazza
: Another automatic selection. He is arguably the best hitting catcher ever leading all receivers in Batting Runs and Weighted Runs Created.
Mike Mussina
: Might get overlooked because he never won a Cy Young award, but had a 123 ERA+ in over 3,500 innings and his 345 Pitching Runs was an impressive 13th all-time.
Alan Trammell
: He was over shadowed by Cal Ripken and slick-fielding Ozzie Smith, but his 70 WAR is eighth all-time among shortstops.
Curt Schilling
: He was arguably the best post-season pitcher ever, but was a lot more than that. He had a 127 ERA+, 3,116 strikeouts (15th best ever), 81 WAR (21st best).
Craig Biggio
: The versatile Biggio scored more runs (1,844) than any second baseman ever and was second to Eddie Collins with 3,060 hits. He also had 291 home runs, 414 stolen bases and caught over 400 games.
A voter can only check off ten names, but there are more than ten who deserve Hall-of-Fame status. Other deserving Hall-of-Famers
include Edgar Martinez, Mark McGwire, Tim Raines, John Smoltz and Larry Walker.