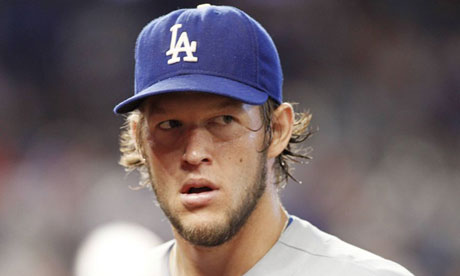 Dodgers ace Clayton Kershaw was the NL run prevention leader in 2014
(Photo credit:
Joe Skipper, Reuters
)
Over the weekend, I posted the American League run prevention leaders. Now, for the National League.
There is no surefire way to determine the best pitchers in the league, but a pitcher's job is to prevent runs. So, it's useful to estimate how many runs pitchers saved their teams compared to an average pitcher. In the past, I have explored four different ways to do this:
These measures are discussed in
more detail
in an earlier post. After computing them, you can aggregate them using weights depending on which measures you trust the most. I chose to take a simple average.
The 2014 National League leaders are listed in Table 1 below.
Dodgers left hander Clayton Kershaw led the league in all the above categories - Pitching Runs (46), Adjusted Pitching Runs (42), Base Runs (42) and FIP Runs (46). That gives him an aggregate of 44 runs prevented compared to an average pitcher.
Johnny Cueto of the Reds was second with 33 runs prevented.
Table 1: NL Run Prevention Leaders, 2014
| | | | | | | | |
| --- | --- | --- | --- | --- | --- | --- | --- |
| | | | | | | | |
| Clayton Kershaw* | LAD | 198.1 | 46 | 42 | 42 | 46 | 44 |
| Johnny Cueto | CIN | 243.2 | 39 | 36 | 36 | 20 | 33 |
| Adam Wainwright | STL | 227 | 37 | 31 | 35 | 27 | 32 |
| Jake Arrieta | CHC | 156.2 | 23 | 25 | 30 | 31 | 27 |
| Cole Hamels* | PHI | 204.2 | 31 | 33 | 18 | 21 | 26 |
| Jordan Zimmermann | WSN | 199.2 | 21 | 21 | 20 | 29 | 23 |
| Tanner Roark | WSN | 198.2 | 24 | 23 | 18 | 12 | 19 |
| Zack Greinke | LAD | 202.1 | 21 | 17 | 11 | 20 | 17 |
| Julio Teheran | ATL | 221 | 16 | 15 | 19 | 12 | 15 |
| Alex Wood* | ATL | 171.2 | 18 | 17 | 13 | 14 | 15 |
| Madison Bumgarner* | SFG | 217.1 | 15 | 8 | 16 | 17 | 14 |
| Stephen Strasburg | WSN | 215 | 9 | 9 | 11 | 25 | 14 |
| Doug Fister | WSN | 164 | 21 | 20 | 12 | 1 | 13 |
| Henderson Alvarez | MIA | 187 | 18 | 20 | 6 | 9 | 13 |
| Lance Lynn | STL | 203.2 | 18 | 13 | 7 | 13 | 13 |
| Tyson Ross | SDP | 195.2 | 12 | 6 | 17 | 12 | 12 |
| Hyun-jin Ryu* | LAD | 152 | 7 | 4 | 9 | 21 | 10 |
| Gio Gonzalez* | WSN | 158.2 | 4 | 4 | 11 | 17 | 9 |
| Josh Collmenter | ARI | 179.1 | 5 | 8 | 10 | 5 | 7 |
| Edinson Volquez | PIT | 192.2 | 10 | 7 | 9 | -6 | 5 |
| Francisco Liriano* | PIT | 162.1 | 4 | 1 | 8 | 5 | 5 |
Data source: Baseball-Reference.com