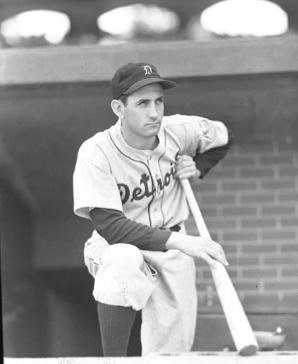 Hall of Fame second baseman Charlie Gehringer amassed 81 WAR in 19 seasons with the Tigers.
(Photo credit: SABR.ORG)
Today, I am presenting the list of top ten second basemen in Tigers history. Other installments in this series can be found in the following links.
Shortstops
Third Basemen
In the previous articles, I discussed the criteria for my rankings in detail. L
et's review the ground rules here along with some caveats. We are only including players who played at least half their games at second base...Actually, we are going to bend the rules here. Super utility player Tony Phillips did not have a primary position, but is going to be considered a second baseman for our purposes. Looking at his innings played below, he played slightly more innings in left field than second base (1,678 versus 1,584). We could go either way, but there is more depth in left field than second base, so he is going to be a second baseman on our list.
Tony Phillips Innings By Position
LF 1,678
2B 1,584
3B 1,236
RF 1,002
CF 278
SS 154
We generally only include players with at least two full seasons at second base with the Tigers. We are going to cheat a little here as as well though. Jim Delahanty was another complex multi-postion guy who played in the Dead Ball era. He was their starting second baseman for 46 games after coming over in a trade from Washington in 2009. He was their primary second baseman in 2010. He moved around the field a lot from 2011-2012, but played second base more than any other position. So, he will be part of the analysis.
Another rule is that we will only consider games played with the Tigers.
One way to start the analysis is to look at Wins Above Average (WAR) at
Baseball-Reference
:
WAR Leaders
Charlie Gehringer 80.7
Lou Whitaker 75.1
Dick McAuliffe 37.5
Tony Phillips 25.3
Ian Kinsler 19.9
Placido Polanco 19.2
Damian Easley 17.8
Frank Bolling 11.2
Jim Delahanty 7.9
Eddie Mayo 7.2
Two players - Gehringer and Whitaker - distinguish themselves from the crowd. They probably aren't as close as WAR makes them look though. They were both premier talents in their respective eras, but Gehringer was clearly better. They were similar in longevity, but Gehringer had more truly great years than Whitaker and is arguably one of the top five second basemen in baseball history.
The biggest problem with WAR in a ranking like this is we don't have a very accurate measure of defense, especially for the old timers.
We can remove fielding performance by looking at Offensive WAR or OWAR.
The results are not very different in this case:
OWAR Leaders
Charlie Gehringer 77.7
Lou Whitaker 67.7
Dick McAuliffe 41.8
Tony Phillips 21.4
Damian Easley 16.5
Placido Polanco 14.1
Ian Kinsler 13.7
Jim Delahanty 12.5
Frank Bolling 9.8
Ralph Young 9.3
Sometimes players can accumulate a lot of WAR by playing for a long time as average or less than average players. In order to get a better look at peak performance, we can look at OPS+. We can see from the list below that Delahanty was a very productive hitter during his short Tigers career.
OPS+ Leaders
Jim Delahanty 129
Charlie Gehringer 124
Tony Phillips 120
Lou Whitaker 117
Dick McAuliffe 111
Ian Kinsler 107
Placido Polanco 103
Damian Easley 101
Jerry Priddy 95
Germany Schaefer 94
The final ranking of all-time Tigers second basemen follows.
1. Charlie Gehringer (1924-1942 80.7 WAR 77.7 OWAR 124 OPS+)
Hall of Famer Charlie Gehringer was nicknamed The Mechanical Man by Yankees hurler Lefty Gomez because "you just wind him up on opening day and forget him". He wasn't flashy but was one of the greatest second basemen in the history of the game. Gehringer amassed 7 WAR or more every season from 1933-1937, won an MVP in 1937 and finished in the top ten in MVP voting 8 times. He had his best season in 1934 when he batted .356/.450/.517 for the pennant winning Tigers. He was also an integral part of the 1935 world champions.
2. Lou Whitaker (1977-1995 75.1 WAR 67.7 OWAR 117 OPS+ )
In the
2019 Bill James Handbook
, James estimated that Whitaker was the second best player not in the Hall of Fame (and not currently on the ballot). One has to go back to the 19th Century to find the best one - shortstop Bill Dahlen. The sentiment that Whitaker is one of the biggest Hall of Fame snubs is not new. In fact, it is almost universally shared by the sabermetric community. Whitaker had 10 seasons of 4 WAR or greater including his best season in 1983 when he hit .320/.380/.457 and accumulated 6.7 WAR.
3. Dick McAuliffe (1960-1973 37.5 WAR 41.8 OWAR 111 OPS+)
Bill James ranked McAuliffe as one of the top 25 second basemen of all time In
The Bill James Historical Baseball Abstract
published in 2001. That included his time with the Red Sox, but he had his best years with the Tigers. McAuliffe often looked awkward both at the plate and in the field, but was a steady performer for 14 seasons in Detroit. He peaked from 1966-1968 when he averaged 5.6 WAR per season. His best season was 1966 when he posted a 148 OPS+ with 6.0 WAR.
4. Tony Phillips (1990-1994 25.3 WAR 21.4 OWAR 120 OPS+)
The Tigers acquired Tony Phillips as a free agent after a 103-loss 1989 season and it turned out to be one of the team's best free agent signings ever. The super utility player averaged 5.1 WAR in his five seasons in Detroit. An on-base machine, Phillips led the league in walks (132) and finished second in on-base percentage (.443) in 1993.
5. Ian Kinsler (2014-2017 19.9 WAR 13.7 OWAR 107 OPS+)
The next three players were all acquired in excellent trades. Ian Kinsler was acquired from the Rangers in a trade for first baseman Prince Fielder who had a difficult time staying healthy after leaving the Tigers. Kinsler was a very good all around player who could hit and field and run and averaged 5.9 WAR from 2014-2016.
6. Placido Polanco (2005-2009 19.2 WAR 14.1 OWAR 103 OPS+)
Polanco was acquired from the Phillies in the middle of 2005 for reliever Ugueth Urbina (who would be convicted for attempted murder shortly thereafter) and journeyman infielder Ramon Martinez. Polanco went on to have five solid seasons for the Tigers at the plate and in the field. His best season was 2007 when he batted .341/.388/.458 with 6.1 WAR.
7. Damian Easley (1996-2002 17.8 WAR 16.5 OWAR 101 OPS+)
The third great second base trade was Damian Easley for pitcher Greg Gohr in 1996. Easley averaged 3.4 WAR from 1997-2001. His best season was 1998 when he hit 27 homers, had an OPS+ of 108 with 5.6 WAR. He is interchangeable with Polanco in this ranking.
8. Frank Bolling (1954-1960 11.2 WAR 9.8 OWAR 91 OPS+)
There is a significant drop between Easley and Frank Bolling who played six seasons with the Tigers missing one while serving in the military in 1955. He was an average hitter and fielder in 785 games with the Tigers. He never had a great season but was between 2 and 4 WAR each season between 1956-1959.
9. Jim Delahanty (1909-1912 7.9 WAR 11.5 OWAR 129 OPS+)
Jim Delahanty was the second best (to Ed) of five Delahanty Brothers who played in the majors. He only played 375 games with the Tigers and was a poor fielder, but his 129 OPS+ earns him a spot on this list. He hit .339/.411/.463 with a 139 OPS+ in 2011.
10. Eddie Mayo (1944-1948 7.2 WAR 5.0 OWAR 86 OPS+)
Mayo played five seasons with the Tigers and was an important part of the 1945 world champions. He had a 112 OPS+ and 4.6 WAR that year.
Note: Most of the data for this post were abstracted from Baseball-Reference.com