Edit: The Adjusted Batting Average formula and numbers have been changed since this was originally published. The final ranking of players is unaffected.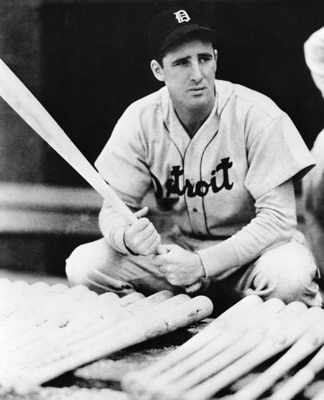 Hall of Fame slugger Hank Greenberg accumulated 54 WAR as a Tiger
(Photo credit: Society for American Baseball Research)
Today, I am presenting the list of top ten first basemen in Tigers history. Other installments in this series can be found at the following links.
Catchers
Second Basemen
Shortstops
Third Basemen
In the previous articles, I discussed the criteria for my rankings in detail. L
et's review the ground rules here:
A player must have played at least half their games with the Tigers as a first baseman.
A player must have played at least two full seasons as a first baseman with the Tigers.
Only games played with the Tigers are considered.
If a player played other positions with the Tigers besides first base, his hitting performance in those games does count.
I will start by looking at the
Baseball-Reference.com
Wins Above Replacement (WAR) leader board for Tigers first basemen:
Hank Greenberg 54
Norm Cash 52
Miguel Cabrera 51
Rudy York 32
Lu Blue 21
Cecil Fielder 17
Darrell Evans 15
Tony Clark 12
Jason Thompson 12
Dale Alexander 11
Based on this list, it appears to be a close race for #1 between Greenberg, Cash and Cabrera. However, it must be remembered that Greenberg was one of the first players to enter the military during World War II and missed four and a half seasons. If we assume that "Hammerin' Hank" accumulated five WAR per year (a conservative estimate given his performance before and one year after the war), then that would bring him up to 79 WAR.
First base is an offense oriented position, so I am also going to look at Adjusted Batting Runs, which just looks at a player's offensive contribution. Batting Runs were first introduced in the
Hidden Game of Baseball
by John Thorn and Pete Palmer in 1984.
From examination of thousands of games, it has been determined that the average single contributes 0.47 runs. In other words, if one single is added to a team's hit total in each game for 100 games, that team would be expected to add 47 runs to their season total. The values for other events can be interpreted similarly. The weights are inserted into a formula to calculate batting runs (BR):
BR = 0.47 * 1B + 0.77 2B * 1.04 3B * 1.40 x HR + 0.31 * BB + 0.34 * HBP +.20 * SB - .42 CS- 0.28 * outs
In the above formula, outs are equal to at bats minus hits. The constant before outs (.28 in this example) is chosen so that the league average for BR is zero. It is generally between 0.25 and .30.
Note that there is not a standard set of linear weights for events. They vary slightly by analyst and by year, but different weights don't usually yield radically different results.
Finally Batting Runs is adjusted for ballpark factor to arrive at Adjusted Batting Runs (ABR). It is calculated from Baseball-Reference as rbat (the batting part) + rbaser (the base running part). The top ten Tigers first basemen according to Adjusted Batting Runs follows:
Hank Greenberg 418
Miguel Cabrera 405
Norm Cash 319
Rudy York 175
Cecil Fielder 112
Lu Blue 82
Dale Alexander 73
Tony Clark 62
Darrell Evans 61
Prince Fielder 53
Using this measure, Greenberg still has a narrow lead and he also played 275 more games with the Tigers than than Cabrera.
In order to compare the batting excellence of players with different career lengths, we can use OPS+:
Hank Greenberg 161
Miguel Cabrera 155
Norm Cash 139
Prince Fielder 136
Dale Alexander 129
Rudy York 128
Cecil Fielder 126
Tony Clark 121
Darrell Evans 121
Claude Rossman 115
By this measure, Greenberg is back to number one on this list. In the end, Cabrera and Greenberg are very close statistically for the time they played, but Greenberg gets the nod due to the substantial time missed due to military service. The complete top ten is shown below.
1. Hank Greenberg 1930-1946 54 WAR 418 ABR 161 OPS+
Baseball's first Jewish superstar, Greenberg was inducted into the Hall of Fame in 1956. The "Hebrew Hammer" won MVP awards in both 1935 and 1940 and played on all four Tigers World Series teams (1934, 1935, 1940, 1945) of the '30s and '40s. He led the league in home runs four times and finished in the top five in OPS and slugging average seven times. Other notable Greenberg feats include 58 home runs in 1938 and 184 RBI in 1937, both the highest single-season total in Tigers history.
2. Miguel Cabrera 2008-2018 51 WAR 405 ABR 155 OPS+
Acquired from the Marlins in an eight-player deal in 2007, Cabrera has dominated the American League for most of his tenure with the Tigers. The Venezuelan slugger won the Triple Crown with a .330 batting average, 44 home runs and 139 RBI in 2012, but that might not have been his best season. In 2013, he won the sabermetric triple crown with a .348/.442/.636 slash line. He finished in the top five in the league in in Adjusted Batting Runs every year from 2009-2016 and led the league every year from 2010-2013.
3. Norm Cash 1960-1974 52 WAR 319 ABR 139 OPS+
"Stormin' Norman" had a monster season in 1961 batting .361/.487/.662 with a 201 OPS+. His 85 Adjusted Batting Runs that year was the highest total in franchise history. He has since admitted to using a corked bat that year which puts the legitimacy of those numbers in doubt. His highest OPS+ otherwise was 149, but was 120+ every year from 1960-1973. He had 12 seasons of 2+ WAR and 9 seasons of 3+ WAR.
4. Rudy York 1934-1945 32 WAR 175 ABR 128 OPS+
On August 4, 1937, the Tigers were stuck in a five game losing streak and suffering from a shortage of healthy players. With all their regular catchers injured, manager Mickey Cochrane decided to try Rudy York, the rookie without a position, as the starting catcher. He proceeded to hit an amazing 18 homers with 49 RBI for the month. Some 81 years after his big month of August, Big Rudy still holds the the American League record for most home runs in a month. York eventually became the regular first baseman in 1940 when Greenberg was moved to left field. He finished in the top five in home runs eight times and top ten in OPS five times.
5. Cecil Fielder 1990-1996 17 WAR 112 ABR 126 OPS+
In the Bill James Historical Abstract, James said that Cecil Fielder was "A big fat guy who hit home runs for a few years". That was a reference to Fielder being overrated, but it was a bit harsh. He was a productive hitter during those years and his 1990 season was one of the most memorable individual seasons I have seen. He was signed as a low profile free agent in January, 1990 after returning from a season in Japan. The big first baseman then surprised the baseball world by posting an OPS+ of 167 and leading the league with 51 home runs and 132 RBI. He never replicated that season, but he had five more seasons of 30+ home runs including a league leading 44 in 1991.
6. Lu Blue 1921-1927 21 WAR 82 ABR 110 OPS+
Blue had four more WAR than Cecil Fielder, but that was largely because Fielder was penalized for being designated hitter for parts of seasons. Because first base is a hitting position, I decided to ignore that penalty. Fielder was the better offensive player, so I moved him up a notch. Blue was no slugger, but he was an on-base machine posting on-base percentages of .400 or better five times with the Tigers. He was also a model of consistency with the following WAR totals from 1921-1926: 2.9, 3.6, 3.3, 3.3, 3.7, 2.8.
7. Darrell Evans 1984-1988 15 WAR 61 ABR 121 OPS+
Everyone was surprised when tightwad GM Bill Campbell signed free agent Darrell Evans after the 1983 season. It was the first time the Tigers had dipped into the free agent pool in a significant way and it paid off, although not right away. He hit only 16 home runs with a 105 OPS+ during the 1984 championship season and it looked like he might be all done at age 37. However, he went on to average 34 home runs over the next three seasons including a league-leading 40 in 1985. His best season was 1987 when he had 4.9 WAR and a 135 OPS+ at age 40.
8. Tony Clark 1995-2001 12 WAR 62 ABR 121 OPS+
Tony Clark was the second overall pick in the 1990 amateur draft and played seven seasons for the Tigers. He was regarded as a disappointment by many fans due to his advance billing and misfortune of being one of the better hitters on some very bad teams. He posted an OPS+ of 120 or better five times and hit 30 or more round trippers three times.
9. Dale Alexander 1929-1932 11 WAR 73 ABR 129 OPS+
Dale Alexander had an unusual career which spanned only five years from age 26 to age 30 despite a lifetime .331 batting average including his time with the Red Sox. The reason for the late start was that he was a terrible fielder. According to Bill Nowlin at
SABR.ORG
, there was a very good reason for the abrupt end to his career as well:
Sliding into home plate on Memorial Day, Alexander hurt his leg sliding into home plate. Red Sox trainer Doc Woods used a new deep-heat method to try to reduce pain, decrease inflammation, and thereby speed healing: diathermy. Unfortunately, Woods left the machine on too long (apparently leaving the treatment room and not returning for quite some time) and burned Alexander's leg. "They'd just barbecued his leg," said son Steve. Don Alexander reported, "It really sort of atrophied. It really was smaller than the other. Just like it was a burn. Scarring tissue. It was discolored." He was so badly burned that there was worry he might lose the leg. Fortunately, amputation was never necessary.
When he did get a chance to play, Moose had one of the best rookie seasons ever for a first baseman batting .343/.397/.580 with a 148 OPS+
10. Prince Fielder 2012-2013 7 WAR 53 ABR 136 OPS+
Cecil's son Prince Fielder was acquired as a free agent in January, 2012 when Victor Martinez went down with a knee injury that would keep him out the entire 2012 season. Cabrera shifted to third base, so that Prince could play first base. Fielder played just two seasons including an outstanding first season where he had 151 OPS+ and 4.7 WAR.
Note: Most of the data for this post were abstracted from Baseball-Reference.com