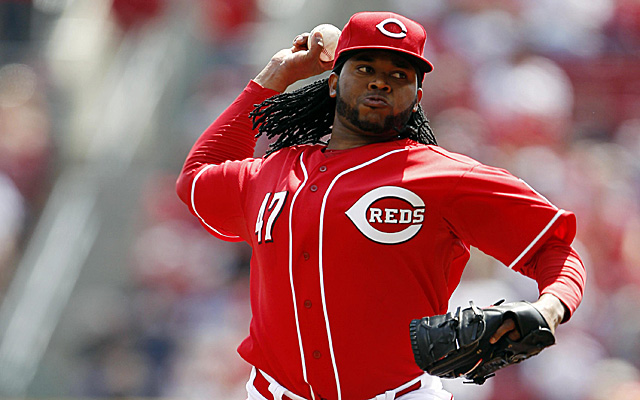 Johnny Cueto is the NL leader in runs prevented
(Photo credit: USA Today Sports Images)
Earlier today, I posted the American League run prevention leaders through May. Now, for the National League.
There is no surefire way to determine the best pitchers in the league, but a pitcher's job is to prevent runs. So, it's useful to estimate how many runs pitchers saved their teams compared to an average pitcher. In the past, I have explored four different ways to do this:
These measured are discussed in
more detail
in an earlier post. After computing each measure, I then take the average of the four.
The current National League leaders are listed in Table 1 below. Reds right hander Johnny Cueto leads the league with 18 Pitching Runs, 17 Adjusted Pitching Runs 22 Base Runs and is third with 12 FIP Runs. That gives him an average of 17 runs prevented compared to an average pitcher.
Adam Wainwright of the Cardinals is second with 14 runs prevented. He is first in FIP Runs (14), second in Pitching Runs (18) and Base Runs (16) and fourth in Adjusted Pitching Runs (12).
Table 1: NL Run Prevention Leaders as of May 31, 2014
| | | | | | | | |
| --- | --- | --- | --- | --- | --- | --- | --- |
| | | | | | | | |
| Johnny Cueto | CIN | 91.0 | 18 | 17 | 22 | 12 | 17 |
| Adam Wainwright | STL | 85.1 | 16 | 12 | 16 | 14 | 14 |
| Jeff Samardzija | CHC | 75.0 | 13 | 15 | 12 | 11 | 13 |
| Julio Teheran | ATL | 83.2 | 16 | 14 | 13 | 3 | 12 |
| Tim Hudson | SFG | 70.1 | 14 | 12 | 11 | 7 | 11 |
| Jason Hammel | CHC | 71.1 | 10 | 11 | 14 | 8 | 11 |
| Michael Wacha | STL | 73.1 | 11 | 7 | 11 | 10 | 9 |
| Zack Greinke | LAD | 66.0 | 10 | 9 | 3 | 6 | 7 |
| Jose Fernandez | MIA | 51.2 | 4 | 4 | 8 | 11 | 7 |
| Mike Leake | CIN | 77.0 | 7 | 5 | 9 | 4 | 6 |
| Jon Niese* | NYM | 62.1 | 7 | 5 | 6 | 3 | 5 |
| Andrew Cashner | SDP | 57.1 | 5 | 3 | 5 | 6 | 5 |
| Aaron Harang | ATL | 65.2 | 2 | 1 | 4 | 13 | 5 |
| Hyun-jin Ryu* | LAD | 58.1 | 3 | 2 | 5 | 9 | 5 |
| Ian Kennedy | SDP | 73.2 | 5 | 1 | 4 | 8 | 5 |
| Kyle Lohse | MIL | 74.0 | 5 | 3 | 5 | 5 | 4 |
| Josh Beckett | LAD | 60.2 | 8 | 7 | 5 | -2 | 4 |
| Lance Lynn | STL | 69.0 | 6 | 2 | 3 | 6 | 4 |
| Dillon Gee | NYM | 52.2 | 7 | 5 | 5 | -3 | 4 |
| Madison Bumgarner* | SFG | 72.2 | 3 | 1 | -0 | 10 | 4 |
Data source: Baseball-Reference.com